On demand app development industry is now in most growing phase than ever. The industry is keeping the things up with the help of people's tendency to rely on such apps for ordering services and products. Whether, you are booking a cab or ordering some meal, everything is so easy, that you had not imagined ever. The demand is more accentuated by the dreading pandemic around the world.  Here we are listing all the factors to review while selecting the grocery app development company.
When public was locked up in their houses, then daily commodities are only available through such services. At that time of crisis, these grocery application helps most of the user to fulfil their essential needs. That's why during the pandemic, these apps got a substance boast on their user base.
More and more businesses are joining hands for investment on such apps, also rising the grocery app development company's market in parallel. According to some of the recent research, the user base of these types of applications grew from 2 billion to 5.7 billion in just one year.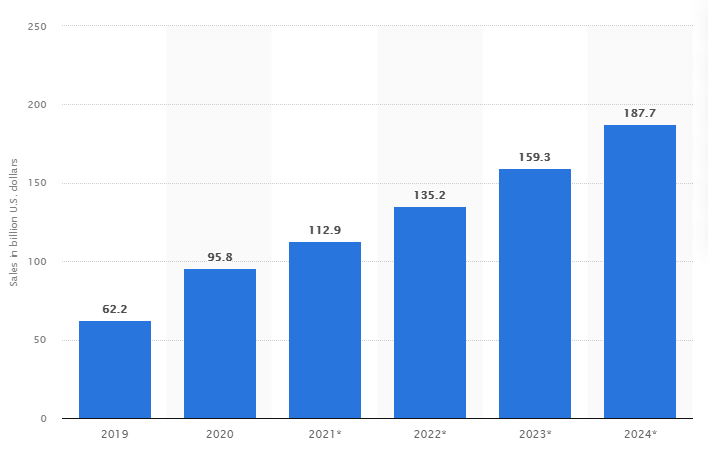 And the total revenue of this specific app market is predicted to reach $22 billion worldwide. So, if you want to start a grocery store, then creating an online presence will be the best option for you. Now, it is the best time to provide a feature-packed, responsive grocery mobile app to your targeted customer base.
Hiring a reliable grocery app development company is necessary for businesses. This ensures impressive service delivery with no halt in between. Here, we will discuss the important components to consider while choosing the grocery app development company.
What is a Grocery Application?
The application that helps a person to fulfill the needs of their daily grocery essential, are known as grocery applications. As a user, you can order all the essential grocery goods with the help of few clicks on your smartphone. You just have opened the grocery delivery application, add all the items that you need from the diverse menu into your virtual cart.
Then you have to check out the items and place the order with the help of various payment gateways.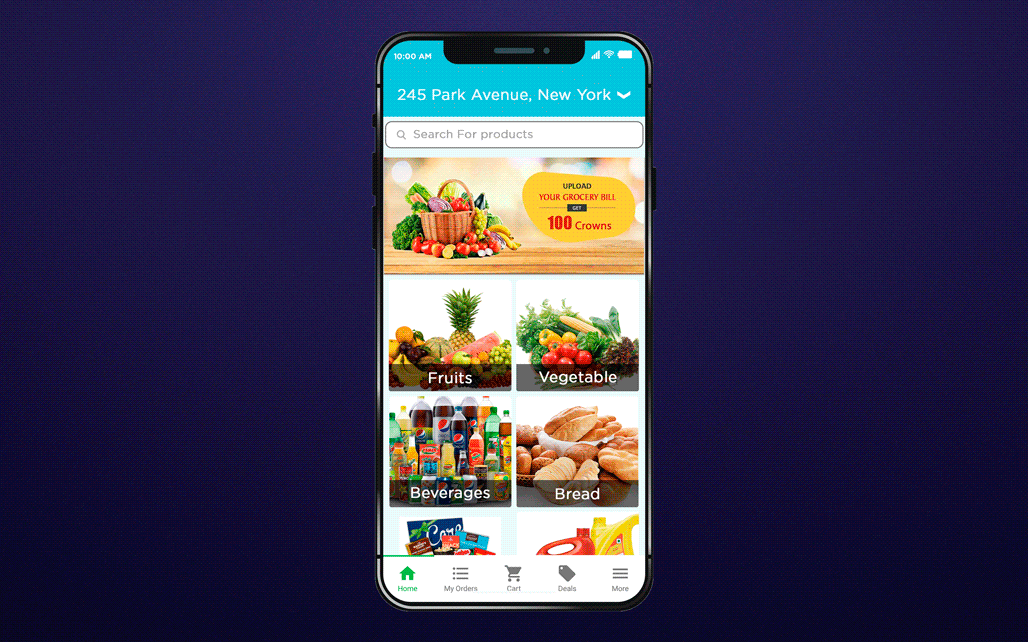 In traditional times, you have to go out from your house drive or walk to your nearest grocery store.  Then you have to search for all the items that you want by roaming on various aisles and waiting in a long queue to buy those products. But with the help of cutting-edge technologies, now you can do all those things through your smartphones. Plus, the order will be delivered to you at your doorstep.
Now, there are three types of grocery delivery applications available in the market. So, choosing the right type of delivery service can be the key to your business success. And the perfect service can be ensured with customization. The preferable model for customization is to hire dedicated developer in-house team.
Here are the types of grocery app, you can develop for your business.
1. Personalized Apps
These apps are capable to enhance the shopping experience for your customers.  As you users will be able to choose their desired products according to their preferable brands and price. Plus, all the items that are present in the store will be get updated every time a user enters into your application.
This makes the personalized grocery app one of the best chosen for business owners.
2. E-commerce Grocery Apps
The eCommerce grocery apps help a user to fulfill their grocery needs irrespective of their ordered location. That means, if any user lives in a remote area, then the grocery will be delivered to them at their preferred time. So, if you want to extend the reach of your customer base, then the type is the best option for you.
3. In-store Grocery Apps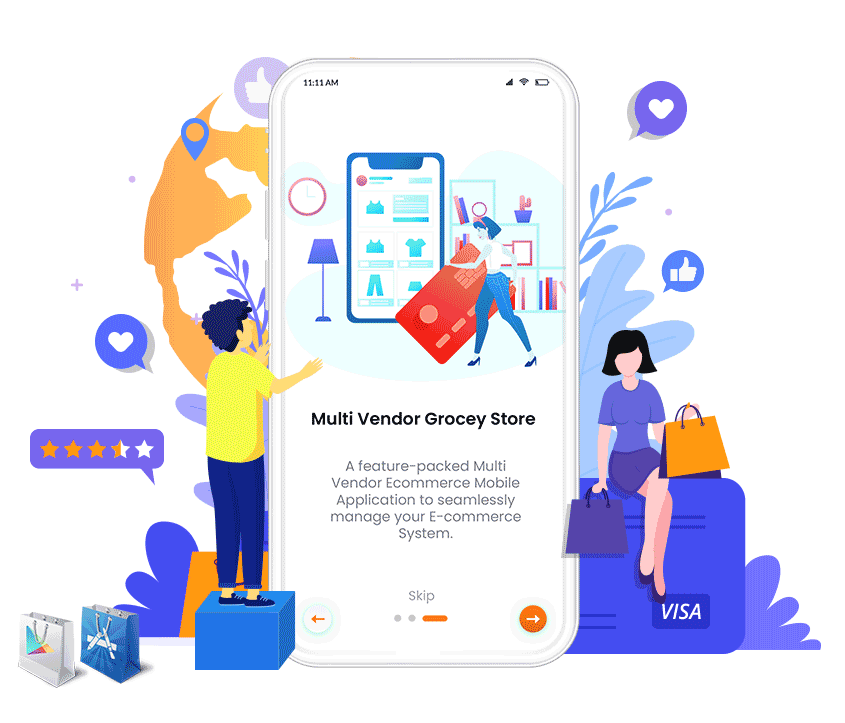 In-store grocery apps are used when you won't provide a better and diverse category of products to your customers. That's why the users will get a visual representation of your store and a plethora of options for every category of products that you want to sell.
This type helps you to gain the trust of your users, and attract more of them with better visual effects.
What are The Benefits of a Grocery Application?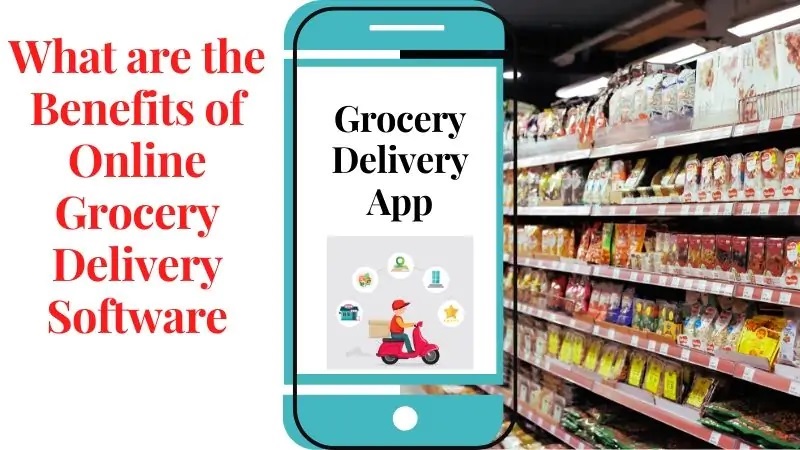 The grocery application comes with its own set of perks and benefits.  Here are some of the top benefits that a unique grocery application offers,
1. All-Time Availability
This grocery delivery app allows every user to order groceries 24X7. That means a user can order their grocery essentials even in the middle of the night.
2. Money and Time-Saving Option
As a user, you can save both time and money by using the grocery delivery apps present in the market. First of all, you don't have to drive all the way to a store and come back with your order, which saves them money for gas. And also you don't have to waste your valuable time roaming on every aisle in search of your product and wait in long queues for payment.
You can just access the grocery app, order the items, and the order will be delivered to you at your doorstep.

3. Payment Gateways
Usually, the grocery delivery apps provide numerous amount of payment gateways for their users. This includes paying through debit or credit card, UPI's, internet banking and much more.
4. Promotion and Offers
This is one of the main benefits of using a grocery app. You can use all the attractive promotions and offers available in the app. This is not possible in offline grocery shopping.
Top Factors To Review While Selecting a Grocery App Development Company
Selecting the perfect grocery delivery app development company, for your business application is a tough process. This is because it includes extensive time and effort to conduct thorough research on the present market condition.
Still, there are some factors that can make your choice process more efficient and effective.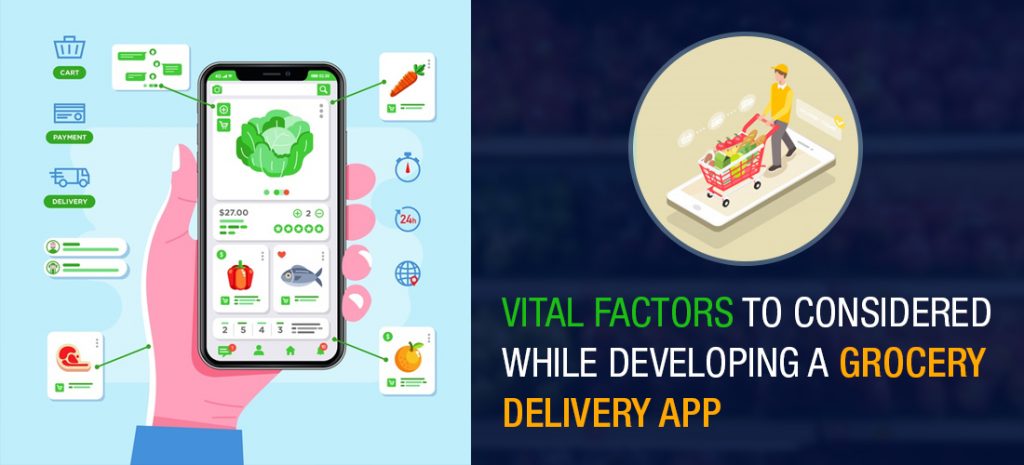 1. Fix An Effective and Operational Model
Fixing an operational and effective model is the backbone of every business in today's market. You have to choose the perfect operational model depending on the requirement and the kind of service you want to provide your users.
There are two types of operational models that are available in the market such as,
#1. Pickup-store Model
In this model, you have to collaborate with various grocery stores that are already available in the market. Then you just have to deploy staff, in order to maintain those stores and also deliver the users. In this model, the users are allowed to choose the store of their convenience and order desired product from them.
This operational model is from the hassle of building up and managing an inventory. InstaCart is one of the successful examples, with this operational model.
#2. Warehouse Model
In this model, you have to set up and maintain a large warehouse, where you have to keep all the stock repositories. These places are usually very large and located outside important cities. Also, you have to maintain a wide and extensive delivery network. That means, you have to provide a delivery truck and delivery person to deliver your products in time. From there you have to distribute your product on every corner of the nearby city. In that case, you can come up with various innovative solutions for carrying frozen and fragile materials.
2. Providing Compact Information for Every Product
According to some research, a person goes through every detail of a new website before purchasing any item from it. Similarly, the users will read all the product information before any kind of purchase. So, try to keep your product description as small and informative as possible. Usually, this information includes various ingredients, date of manufacture and expiry, nutrition, and much more.
3. The Right Framework For your App Development Process
The framework is one of the important parts of the development process. Choosing the right framework for your business app will not only ensure better quality. But also ensures better security along with performance.
Usually, developers choose various open-source frameworks, as they are effective and easy to under. Plus, a framework like Laravel, React JS all are famous for the unique development tools, they provide during the development process. In order to choose the right framework, first, you have to know the perks of using those frameworks for your app development process. The best custom mobile app development services are capable to provide you with various cost-effective development options for your business.
4. Developing An Explicit Website
Designing an explicit website is very crucial for every grocery application present in the market. But for that, you have to conduct thorough research for the present market and your competitors. Try to figure out what are the present issues of the users and solve them effectively. Always remember all grocery apps become successful only by solving the present issues of the users, not by providing the same service as their competitors.
To ensure an explicit website, first, you have to create a clickable prototype of your website and test it before launch. This will give you a better edge among all of your competitors in the market.

Continuous Supply of Product To Avoid Out of The Stock Situation
Always make sure that you have a continuous supply of all the highly essential products. Basically, when a user like any product, they always try to buy that product only for the future. So, that product got out of stock, then they will not buy any alternative one and also it can jeopardize the whole order. Plus, they feel more disappointed if they are notified, the product is not thereafter the order confirmation.
For this, you just have to maintain an effective inventory management system. And try to keep the product stock of every category up-to-date as soon as possible.
1. Customizable Menu 
Implementing a customizable menu is very essential especially for the grocery delivery application in the market. Basically, a new product of every category launches almost every day. And to make those products available to users you might have to update your menu often.
Moreover, you can implement various latest technologies and features, to provide a better shopping experience to your users. Also, ensure the product categories of your grocery app remains as diverse as possible. That means they should include a product of the different brands and of the different price ranges.
Hiring an app developer from a leading grocery app development company, with a better experience in the market can ensure a better quality of customizable menu for your app.
2. Implementation of Rich Features
Try to implement better features on your grocery application, so that you can provide a better experience to your users. Sometimes the developers use high-end features and functionalities to attract more users. But in that case, you might get ended up with a slower application. So, always try to implement all the necessary features in your app without compromising the performance of your application.
3. Implementation of Better USP
Successful brands like Walmart, InstaCart, Big basket use effectively Unique Selling Propositions to maintain their sales every day. Some of the best USP are selling products at lower prices than the market, offering delivery with a limited time frame and much more. Choosing the best USP for your business can bring more customers than you can imagine.
4. Secure Payment Options
As the owner of a grocery delivery app, you might have to deal with various payment information from your users. And it's your responsibility to save all those sensitive data from any cyber hacks or threats. That is why you have to implement a secure payment option so that the users can feel safe while using your in-app payment gateways.
5. Maintaining a Strict Budget
Always try to maintain a strict budget for your grocery app, especially if you are setting up a brand-new business. Usually, start-ups have a limited budget, and they have to set everything within that limited amount. For that reason, you have to select a grocery app development company, which can provide you with a promising end product at affordable rates.
Conclusion
After the outbreak of coronavirus, these groceries deliver apps that act as a lifesaver to their users. As it is capable of fulfilling the demand of every essential grocery and delivering them at their doorsteps. That way the users base of these applications rises to a larger extent and still going on. So, if you want to start your own grocery app then this is the right time to do it. Hope you got an idea of how to hire a grocery app development company after reading this blog.