Quick Summary: The usage of Messaging Apps is huge due to their unique features and seamless functioning. That is instant messaging and providing innovative communication mediums where two or more users can stay connected innovatively. This blog is dedicated to persons or businesses who want to develop messaging apps like Whatsapp for business and revenue generation.  
What comes to your mind when you think about an instant messaging app? Most of the users will give a common answer, and that is – 'Whatsapp'. It is such a legendary app that has changed the whole perspective of messaging app development. It is such a fantastic app that offers simplistic but powerful features. A user can not only send the text, but they can also share images, documents, voice notes, and audio and video calls with a single click. 
The app was launched, i.e., on 24 Feb 2009, and got users' attention instantly, and now you can find this app on all smartphones. Every smartphone owners use this app as a priority taking other apps as the second priority. The owner of this app is Facebook, now Metaverse. Its headquarter is in Menlo Park, California, and the people involved are Will Cathcart(head), and its co-founders are, Brian Action and Jan Koum. 
From a business point of view, an app like WhatsApp is best to follow. It is the reason that interested users search about it on the internet like-
How can I make an app like WhatsApp?

How much does it cost to build an app like WhatsApp?

How can I make an app like WhatsApp for free?

Which programming is used to make WhatsApp?
If you are also searching about how to create an app like Whatsapp, then this blog might help you to find the right information that you can leverage for your next messaging app development. Via this blog, you will go through all the crucial information that will help you to create an instant messaging app. 
So, let's start with some basic information that most the users search on the internet, and that is- 
What is Whatsapp?
Whatsapp is a free-to-download instant messaging app available for mobile users (Android, iOS) and desktop users (Mac, Windows). The best part is users can sync their WhatsApp mobile with the Whatsapp desktop app. This app is internet-based, where a user can share messages, images, audio, and video with other users. This app also allows users to create a group for sharing text and audio-video messages.
Its major fanbase covers most teenagers. However, its users are from every age group. Additionally, this app also allows the users to share their current and live location in the groups and with the other users. These specialties make it a pioneer app. 
Due to having a variety of fantastic features, it has been motivated many mobile app developers to create the apps like WhatsApp.      
| | |
| --- | --- |
| Apps like WhatsApp  | Daily Active Users  |
| WhatsApp  | 483.4 million  |
| Facebook Messenger | 397 million |
| imo | 32.8 million |
| Viber  | 20.9 million |
| Skype | 16.2 million  |
| Truecaller | 12.8 million |
| UC Browser | 11.3 million |
| LINE | 10.3 million |
| WeChat | 7.7 million |
| Zalo | 7.3 million  |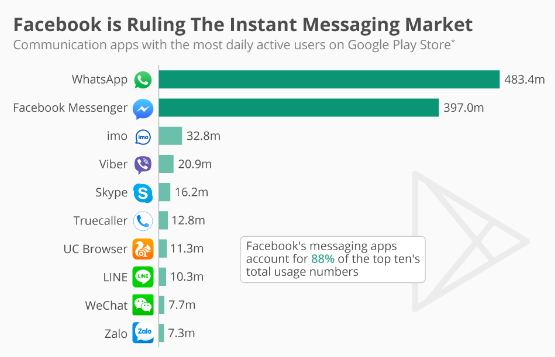 Some Key Statistics About Whatsapp
It is such a legendary app for messaging that has great cross-platform potential. Whatsapp is being used by Android and iOS users with excitement, among other apps. It is recognized as the most popular global mobile messenger app. 
Expanding it lets us see some key statistics related to it that will help you understand this legendary app much better. 
As per

Statista

, worldwide

monthly active users

are

2 billion

. 

The number of WhatsApp users in the USA is 74.9 million. 

It comes at the

3rd

position in the worldwide ranking of

leading social platforms

. 

The persons from

the age group of 26-35

years use Whatsapp maximum. 

Whatsapp is one of the apps downloaded more than 5bn times on Android and iOS platforms. 

In 2014, the

estimated revenue

was $1 million, which reached

$5.5 billion

in

2020

. 

Over

100 million

Whatsapp messages have been sent so far since its launch.  
These statistics represent much about Whatsapp, which makes it a solid example to consider for developing the modern messaging app. Moreover, these stats also indicate that developing an app like Whatsapp is an advantageous idea for revenue generation.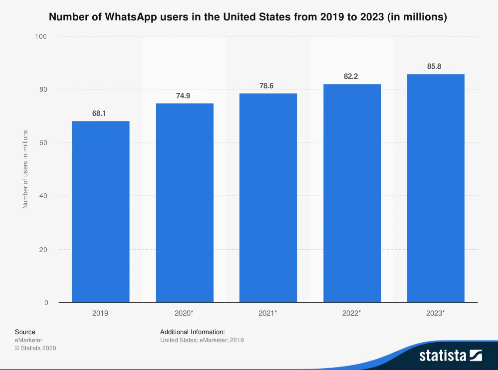 How Does Whatsapp Make Money?
In order to create a chat app like Whatsapp, you also need to understand and know how WhatsApp makes money. It will help you to think about the monetization of your next social networking app development.

The Whatsapp business is built for professional use, where users can use it for their respective businesses. An individual business can provide sales and support services to its clients. It also comes in an API version, and its best examples are Netflix, Uber, and other apps. There are some charges associated with the Whatsapp Business APIs, such as-
| | |
| --- | --- |
| No. of Messages  | Charges/Message (in USD) |
| 250,000 messages | $0.0085 |
| 750,000 messages | $0.0083 |
| 2 million messages | $0.0080 |
| 3 million messages | $0.0073 |
| 4 million messages | $0.0065 |
| 10 million messages | $0.0058 |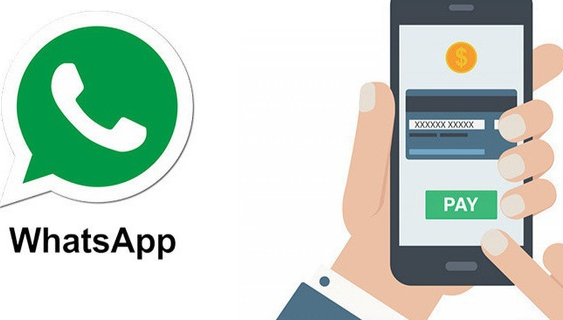 Whatsapp Pay is another monetization model; however, its availability is still limited. It works as an individual can send money to their friends, family, and to others. Upon receiving the money, the recipient is charged 3.99 per transaction. It is limitedly available only in India and Brazil, but its use is still negligible as there are dedicatedly payment apps available, or businesses are using payment gateway integration in mobile applications.  

Features You Need to Consider While Developing Messaging Apps Like Whatsapp
Messaging apps like Whatsapp are being used by millions of users worldwide to stay in the loop with their family and friends or, if used for business purposes then, to stay in the communication with the customers. These are the features that make these apps useful for staying connected with the world. A detailed guide of messaging app will tell you the uniqueness and benefits of a messaging app.
If you are planning to launch an app like Whatsapp, then it would be best to know about the features so you can implement these accordingly in your app. So, let's kick start the list of key features for your next app, like Whatsapp.
It is one of the simplest features of an instant messaging app that a user uses for sending text messages, including emojis, stickers, and others. The text messaging features allow users to format the text as per the desired format, such as a user can change the font, including style text, and many more. Even you can copy and paste the messages sent to you by other users.  
If you want to send a common message to your contact list, then message broadcasting is the best way. On the upper side of the screen, you will find an option like New Broadcast. Once you click it, then it will ask you to add the contacts to the broadcast list. In the broadcast list, you can add 250 contacts once in a while. After creating the list, you can send a common message easily to all by copying & paste.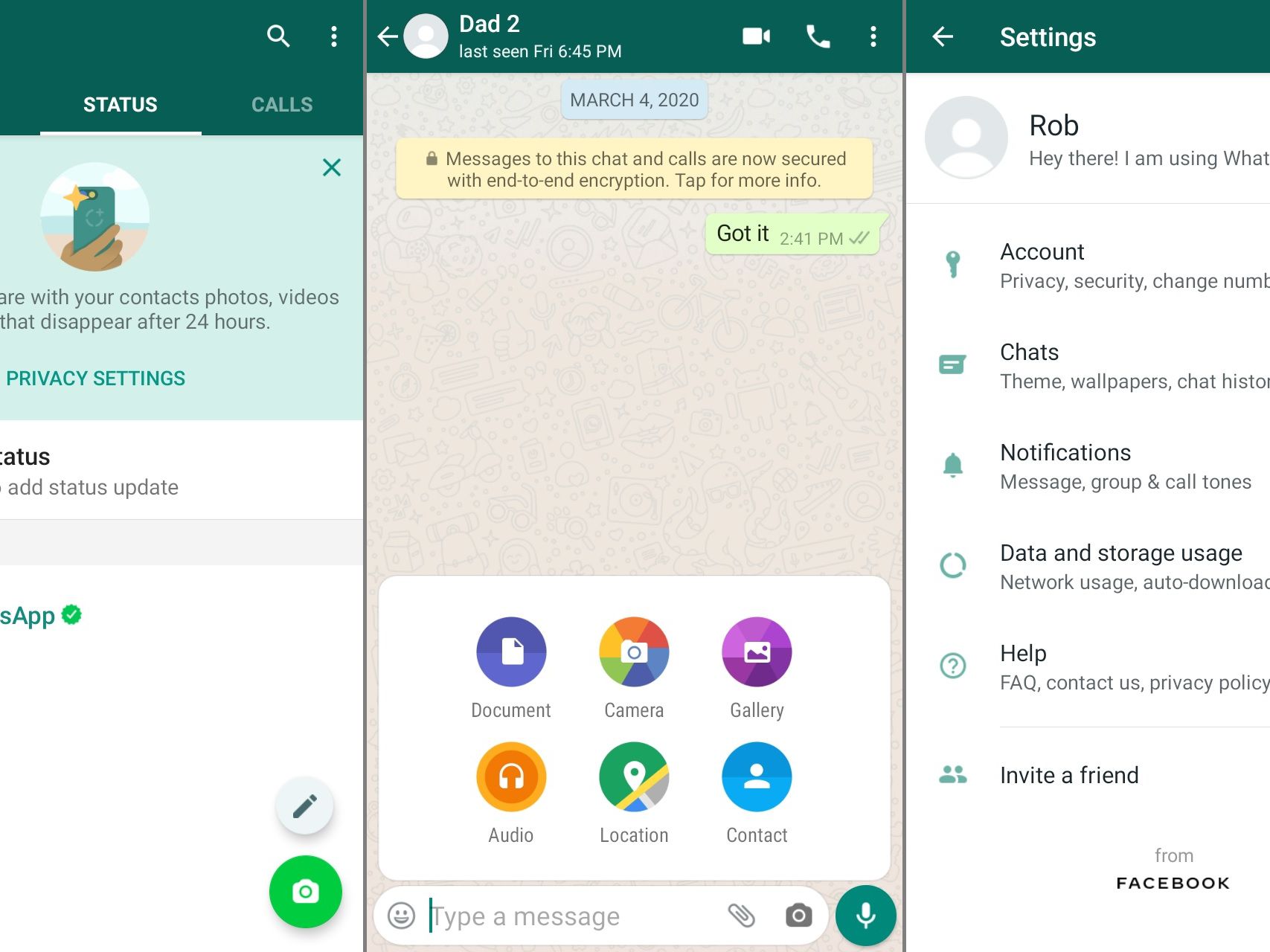 The group chat allows the users to make a group where they can add up to 256 members, including the group admin. This feature allows users to share text messages, infographics, multimedia files, audio files, video files, images of different formats, emojis, and many more. The group admin can name the group, set the group icon, customize the notifications, and more. 
It is one of the most interesting features that allow users to make voice or video calls to their friends, family, or loved ones. There is no location bounding as even from one country to the another; you can easily make calls. It is one of the best options for performing international video calls. Although there are dedicated app like zoom for video chat and conferencing.
If you do not have any time to send text messages, then you can send audio messages with ease. You can find the voice recording option at the bottom of the screen right to the message typing space. While pushing it, you can record your message and send it to other users or groups. If you want to record a long-duration audio message, then you can slide the icon to the upside. The audio messages are very similar to voice chat apps. 
Web and Desktop Messaging
It is a unique feature of messaging apps like Whatsapp. It allows users to transfer the chat screen to their respective computer or laptop screen. First, you need to click the web option on mobile and open the URL on a desktop. It will ask you to scan the QR code; once it is done, you can access your WhatsApp account on the big screen. 
It is one of the most important features of apps like Whatsapp, where the messages remain encrypted from end to end. It means that suppose you have sent the message to someone, then it will be displayed between you and that person. Even Whatsapp can't read even these messages (images or audio, or text).
It is, again, an interesting feature that allows users to share memories with others in the form of images and videos. A user can send the images and videos from their device memory or forward them to another user as received from someone or captured from a built-in camera. These can be shared even in a slow connection. 
The document-sharing feature made life easy for many individuals. Before apps like WhatsApp, there were only two options available, like manually or scan the documents, then e-mail, and then again for receiving the documents user needs to login into the e-mail account, which is a lengthy process. There is no need for an e-mail account; even a fifth-grade student can scan the documents and send them to their parents. 
A user can showcase their visual story in the form of status. Using the status feature, users can upload a video clip, multiple images, texts, etc. Even they can set the status privacy that allows them to control their feed and stories.
In messaging app development, Location sharing is a powerful feature that allows users to share their location in two ways: live location sharing and the current location. The live location sharing feature allows the users to share it for 8hrs maximum, or you can end the sharing after a few minutes.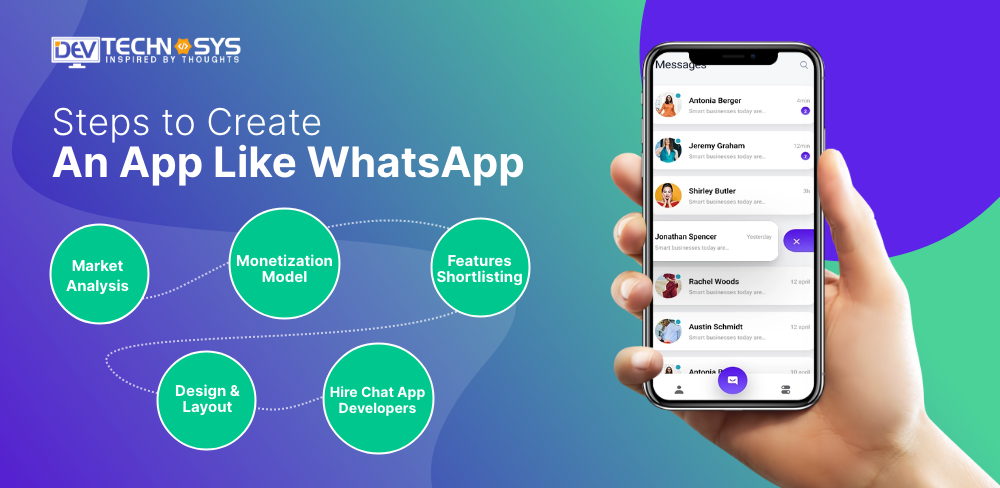 The Steps to Create An App Like Whatsapp
Similar to messaging apps, there are also chatbot applications or portals that the eCommerce sites can enable on to their website, software, and application. When it comes to creating an app like Whatsapp then, an interested person first search for the steps to develop a messaging app like Whatsapp. So, here are some key steps that can lead you to create the app in a smooth way. 
1. Market Analysis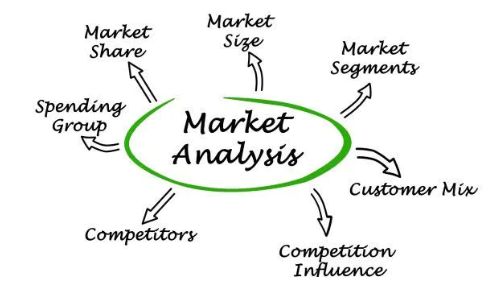 App creation is such a complex task, but for its sure success, it is required to do market analysis. Market analysis can open the door to reaching the target audience. While performing the research, you need to find out what is the latest trend in which users are taking an interest, the current market statistics of apps similar to your concept, a study about competitors, and other points.
2. Monetization Model
In a video sharing app like TikTok or a social sharing app, the revenue model is quite similar. The next task after performing market research is selecting the monetization model that can promise you a fine revenue after implementation. Messaging apps are the best not only for communication but also for brand promotion and advertising. The best example is Whatsapp Business, where businesses are really leveraging it to sell their products in the easiest way.    
3. Features Shortlisting
For the best chatting app development, you need to work on the features and functionalities that you want to offer to your users. The best idea is to segregate the features into two parts one is basic features and advanced features. For the better future of your app, first, implement all essential features and then proceed to implement the advanced features. It will lead you to cover all the features in a stepwise format. One can also check out the features of social media app to add additional features or benefits. 
4. Design & Layout
The design and layout are much required components for better customer engagement. So, here you need to choose the design that can attract the customers carefully. Including the design, you also need to choose the tools that can help you to create eye-catching designs. The experienced UI/UX designers can help you to create your dream design for messaging apps like Whatsapp. 
5. Hire Chat App Developers
The build of the app depends on who will develop it. Yes, you have to understand it right here; we are hiring mobile app developers who have in-depth knowledge of developing instant messaging apps or video chat apps. Skilled developers know how to utilize the technology for creating an ultra-modern app.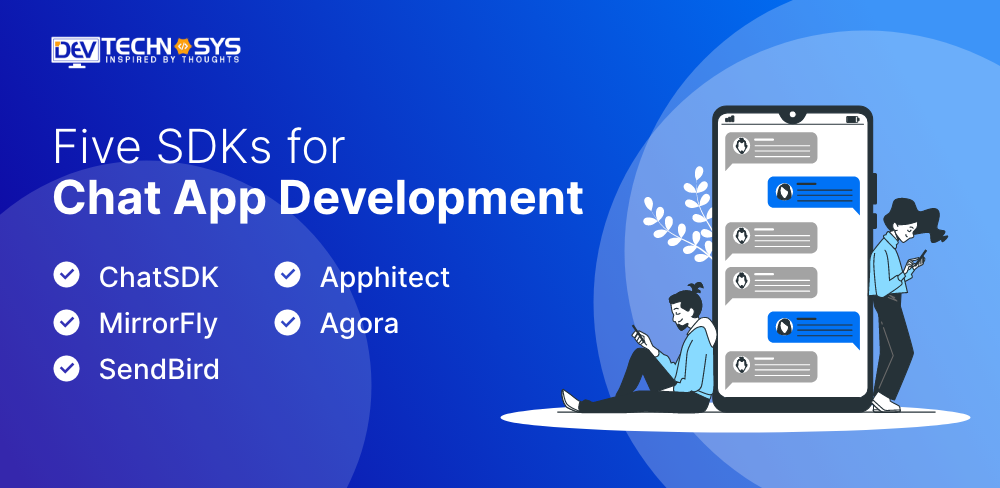 Best Six SDKs for Chat App Development
The SDK stands for the software development kit used in mobile app development. The reason to mention the SDKs is that these provide a smooth way for chat app development where you can create the apps like Whatsapp with ease. 
So, let's explore the list of SDKs, including their specifications. 
As its name implies, it is specially built to develop chat applications. Another specialty is its dual license that supports iOS and Android. Whether you want to add chat support or develop a new application, it works fantastic in both terms. 
Features: 
Private and public group chat

Social Login 

Push Notification

Multiple Message

 
The mirror fly is recognized as one of the best customizable real-time chat SDKs with WebRTC embedding that facilitates the developers to implement HD video communication features and empowered VOIP calling. It offers a highly scalable messaging infrastructure that can connect more than 10 million users for communication. 
Features:
100% customization

VOIP Calling 

Screen Sharing

Group Video Calling

It is known as Chat API and in-app messaging SDK that promises great results in implementing the chat app development. Its main specialty is end-to-end encryption and global language translation. It facilitates 1000 K concurrent connections and 500,000,000 messages per day. 
Features:
End-to-end encryption

Spam flood protection

Image filtering

Profanity filters
The Apphitect is a leading SDK that allows messaging app developers to implement the chat application. It offers several features that make cha application unique and fantastic for use. It supports offline messaging and can be customized up to 100% using modern technologies like Erlang, Apache Cassandra, AWS, and others.
Features:
Offline Messaging 

Social Integration

Location Tracking 

Zero downtime 
Have you heard about CPaaS? If not, it stands for communication platform as a service, and Agora is the best for it. It facilitates 40,000,000,000 minutes of connections per month. Agora is a hyper scalable chat SDK that, in turn, provides real-time voice and video calls, including live streaming. Its other specialties are interactive broadcasting, group conferencing, and more. 
Features:
Live interacting Video & Audio calls

Real-time messaging 

Compatibility with all popular mobile platforms 

99.99% uptime
Sceyt is a chat API and in-app messaging SDK that offers wide range of deployment options, including on-premises deployment. This gives Sceyt a significant advantage for organizations with strict data privacy requirements. Sceyt is also more scalable compared to the competitors, with no limit on the number of concurrent users. Additionally, Sceyt offers better value for money as you get access to all of the core features on each plan.
Features:
Scalability
Security
24/7 support
How Much Does it Cost To Develop Messaging  App Like Whatsapp?
The cost to develop an app like Whatsapp depends on certain factors, where a major portion of the cost is involved in feature implementation. The following are the factors that influence the cost of app development which are:
Features & Functionalities 

Mobile App Development Platform

Number of experts involved 

Geolocation of mobile app developers

App Complexity

Hiring Model  

The overall cost is the sum of the cost involved with the above components. Suppose you need an app for a single platform with basic features, then it can cost you around US $8,000-US $25,000. It can be more if you want to implement advanced functionality. 
The above represents the approx cost of developing an app like Whatsapp. But if you want to know the cost breakdown from the time and cost point of view, then check out the following table-
| | | |
| --- | --- | --- |
| Platform  | Development Cost  | Development Time  |
| Android  | $8k – $20K | 700-900+ Hrs, |
| iOS  | $30k – $40k | 800-1000+ Hrs.  |
| Backend  | $20k – $30k | 500-600+ Hrs. |
| UI/UX Design(Single Platform) | $3k-$5k | 50-60+ Hrs.  |
The cost of messaging app development is also influenced by how you hire the developers and from where you have hired them. The following table represents the cost of hiring developers from an offshore location. It covers the overall cost and hourly hiring costs. 
| | | |
| --- | --- | --- |
| Location  | Overall Cost  | Per Hour Hiring  |
| USA | $70,000-$80,000 | $150-$200+ / hour |
| Europe  | $60,000-$80,000 | $120- $150+ / hour |
| Australia | $50,000-$70,000 | $100- $120+ / hour  |
| India | $8,000- $25,000 | $20- $45/ hour  |
Note that these rates are based on an approximate idea, and the cost can be less or more. For a clear view, it would be best to consult with a well-known messaging app development company. They will let you know the exact breakdown of the cost of developing all components to turn your idea into a real-life app.  
Wrapping It Up
Several messaging apps exist that you can find on the internet, but none other than popular than Whatsapp. The messaging app inspired many app developers to create something unique that can change the traditional modes of communication, where Whatsapp is a legendary app. 
If you are looking to develop an app like Whatsapp, then you are on the right path to entrepreneurship. You only need to take care of some crucial points, like choosing the features for implementation and focusing on the app's platform, design, and layout. Inclusion the most important thing is to hire mobile app developers to develop the chat app. They can help you launch the modern chatting app that you will later leverage for business.   
Important FAQ 
Here are some important FAQs that will let you know more information about the development and other aspects of apps like Whatsapp.  
Q1. What language are messaging apps coded in?
Ans- The programming languages for messaging app development depend on which platform you want to focus on for developing the messaging apps. Suppose you want to develop a messaging app for the Android platform, then the programming languages are Java and Kotlin. But if you want to develop an iOS messaging app, then coding languages are Swift and Objective-C. 
For messaging app backend, the programming languages are Java, HTML5, and CSS3. Other than these, here are some following details you would love to read:
Data Storage- AWS

Social Media Integration- Facebook, Instagram, Twitter 

Analytics- Flurry, Google Analytics, Firebase

Maps & Navigation- Google Maps

SMS Services- Twilio

Chat SDKs- ChatSDK, Agora, MirrorFly, SendBird, Apphitect, etc. 

Push Notifications- APNS, FCM
Q2. What is the most used messaging app?
Ans- As per Statista.com, the most popular messaging app is Whatsapp, which is on the top with 2000 million monthly active users. The other apps are:
Weixin/WeChat- 1263 

Facebook Messenger- 988

QQ- 574

Snapchat- 557

Telegram- 550
Note: the mentioned above numbers are in millions per month. 
Q3. How long does it take to build a messaging app? 
Ans- Several factors influence the development time of messaging apps. Although for MVP (minimum viable product), it may take approximately 1300 hrs for the Android or iOS platform.  
Q4. Is there still a demand for a chat app?
Ans- Yes, there is considerable demand for chat apps. These apps connect millions of people worldwide for communication where they can share text, images, audio files, video files, and many more. By using these apps, two or more users can perform audio & video calls together or in a group. If you are looking to launch a messaging app like Whatsapp, it is a great idea for entrepreneurship.   
Q5. Which is the best app, Whatsapp?
Ans- Whatsapp is such a legendary app, but some best alternatives are also available on the internet platform that you can refer to for your next chatting app development. These are the following-
Signal: iOS, Android, macOS, Windows

Telegram: iOS, Android, macOS, Windows

Google Messages: for all platforms

Threema: iOS, Android 

Viber: iOS, Android, macOS, Windows, Linux

Spike: iOS, Android, macOS, Windows, Web

Ginio: iOS, Android, macOS, Windows, Linux 

Wire: iOS, Android, macOS, Windows, Linux, Browsers